The rest of the parts of this editorial series deal with the weapons of war.

The war is really a three way war as it is currently: The DS, the GBA SP, and the PSP. This editorial and the next will deal with the Nintendo DS, the last two will deal with the Game Boy Advance and its true successor. The first thing to note about the DS is the amount of sheer games that are coming to it. The first and foremost weapon the Nintendo DS has at its disposal is its games. The next editorial will deal with the secret weapons: DS Option Paks, V-Pocket, Online Play, and DS "Spots."

---
Since this edition has to deal with the games on the Nintendo DS,

it would make sense to list and explain all the games headed to the system. However, that would take forever and there are only a few games that really need to be explained or highlighted. I will choose about FIVE killer app games for the Nintendo DS. The Ds has over 120+ games announced and in development for it. Many of these games will be on display at E3 and may also be released before the end of this year. Needless to say, the DS does have games worth buying and playing. They just released the system before many of these games could be finished up for release. I will not count games that are out already in the USA in this examination of the DS's weaponry. Keep in mind that E3 will be a springboard for new DS games and the list of over 120+ titles in development. may very well grow to 200+ in development before the year is over. Add that to the over 400+ Game Boy Advance titles available that work with the Nintendo DS, the Nintendo DS has a theoretical library of nearly 700+ games. That fact kinda negates any "software lack" arguement that Sony may bring up.



But Game Boy Advance games on the Nintendo DS are not full screen,

use only ONE screen at a time, and are completely crippled in multi-player mode. So, it would really help the DS if Nintendo and third parties got the games to us more quickly. Some 3-D games that are on the N-Gage QD, and Tapwave Zodiac would be fairly easy to port over to the Nintendo DS with a few minor changes. I would not mind a Tomb Raider game, or Pathway to Glory! Oh, well.



Deficit is something that every company that is successful has to deal with.

Deficit is not a bad thing and you can not operate a company without any sort of deficit. If there was no such thing as a deficit, you would have no growth. Deficit is what you have when you buy supplies for a company. A good example is that an office may need about $1,000 worth of paper, paper clips, et cetra to operate that week. That cost is the deficit for the office. You could make a surplus of profit in the millions, but your deficit is still tabulated. Deficit is the money you think you will spend before you get the money to spend. It is like writing a check right before payday that you know will get cashed AFTER payday. In a way, Nintendo released the DS with a game deficit that they hope to pay back. Still following me here?



Okay. Whatever. On to the five games!

Since I am a bit pressed for time, I will just give short descriptions and -later on- devote a column just to how much absolute ROCK these titles and others will be. I am also going to avoid the obvious path in listing games like F-Zero DS, Mario Kart DS, Madden 2006, the new Super Mario Bros. 5 game, or the new Sonic the Hedgehog title. I will list five killer apps that people may not have considered.

---
Lost in Blue

- This game will probably be a sleeper hit in Japan, but deserves to be a huge hit in the USA when it hits here in August. This third game in the Survival Kids series is set to include all the things that made the first two great games.



Lost in Blue will feature.



Time of Day/Weather

- The time changes as you go along in the game and your characters will grow more tired as the hours pass. Different animals come out at night and some animals may be more dangerous. Some weather can harm you if you stay in it too long.


Item combinations

- The new intuitive feature means that you drag items into the build. You can make useless items, essential items, and even mix types of food.

Eating & Health System

- Metal Gear Solid 3 stole the original version from the first game and added a "taste" feature. It looks like Lost in Blue will feature that same taste feature as well, where you become more accustomed to various foods. Each character will have individual likes and hates that affect them differently.

New animals/items

- Well, of course. This is the THIRD game in the Survival Kids series, new things will be a given.

Following/Split action

- There will be times where you have to have the second character follow you. They are considering allowing you can call to him/her with the microphone. Sometimes the two of you may be split from each other and you will have to switch between the two to complete puzzles.

New Animal Friends

- Even though this one is going for a more serious feel than the previous ones, there will be an animal or two you can keep as a pet. Currently, that is what is being planned. Should be interesting to see how that pans out.

Touch and Microphone enhancements

- These are subtle in the game. You can search the beach and dig through the sand with the stylus, or you can blow on a fire to blow it out or keep it going.

Various views

- Side views, first person views, and top down views are visible in this game. Hunting is in first person and you can move in it.

The game is already being translated into English

- A few of the games for the Nintendo DS are being developed with release in the USA first in mind. It should be out in August and you need to buy it.

This game has a bit of a pedigree to live up to as the first game won some fairly high acclaim from our reviewers and reader reviewers. This will be in my DS many, many weeks for sure. For reference, here are the reviews we have of the previous Survival Kids title here at DMG Ice. I even wrote one of them. Yes, the original game IS good. Lost in Blue is going to be just.. amazing.

Survival Kids - Josh -98%
Survival Kids - The Rani -100%
Survival Kids

- Philip Wesley

-100%
---
Advance Wars 3

- Since this game is a turn-based strategy game with such a loyal Game Boy Advance following, there really is nothing more I can say about it. The graphics in this game are more detailed and the multi-player mode on this should -indeed- be good. Most likely, this will have an edit mode attached to it. Currently, the information is leaning in that direction. In short, it looks like you will be able to edit units and edit maps, all the way down to the backgrounds and sprites with ease using the touch screen. Want to change the graphics in your multi-player game around? I suggest Blue Virii versus Green Cukemen, Should be interesting. The sheer amount of new maps and story details will rock your world. Also, the game will continue the storyline presented in the previous games. War isn't Hell.. War has never been so much fun. This one will probably hit the USA first and trail the Game Cube Advance Wars by a matter of weeks. There are a few maps from the first two games that will show up in this one. Why is this a killer app? A lot of strategy fans are going to love this game and until Blizzard announces something, this is the joint folks. This is the joint. Check out the reviews we have of the previous Advance Wars titles. Yes, I know that we are currently missing a review of Advance Wars 2. I will review it when I get some time to stop playing it.

Advance Wars - Fox -96%
Advance Wars - MSG Cow -100%
---
Deep Labyrinth - From Interactive Brains, this is a full fledged revamp of their 3D Cellphone RPG. So far only about ONE screenshot of this game has been shown and information is limited on it. This one has a slim chance of coming over here, thanks to certain companies that are looking to bring it over. The game features first person dungeon crawling and a sprawling story with 3D Polygonal graphics and such. Oh, Hell. I'll just show you a screenshot. See that hot dragon? Picture that in action with the dragon moving and you have to make selections with the stylus as you battle it. Now

check out the version for the Cell Phone at the Japanese site

. Oh, turn up your volume: You hear that? It's the sound of a freaking killer app. The battles on the cell phone version -which is shown at the site- were done via keypad combinations. You would draw symbols to cast spells in the DS version. Hot stuff is it not? This should be an interesting game when it is completed and definately worth the time and effort to bring to the United States. I smell money and adventure! Since the game takes place in first person for most of it, I think people will find it a bit like Mysterium or the first Phantasy Star's dungeons.

---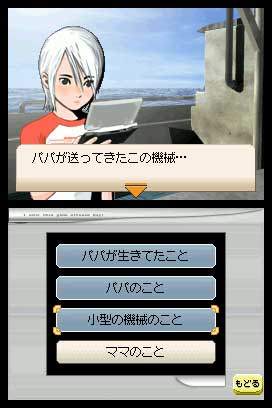 <Another Code
Deep Labyrinth>


---
Another Code

- Developed by Nintendo and CiNG (Corporation Singing), this Puzzle RPG recently recieved a platinum score from Famitsu magazine in Japan. The storyline revolves around the main character "Ashley" recieving a letter to come to an island where her dad may or may not be still alive. Her mother recently died and she found out that someone is after her and her dad. The game involves point to where you want Ashley to walk to. The top is a first person view of her surroundings and the bottom screen is a top down view. Lush Myst-style 3D visuals combined with pointing, circling, dragging and such on the bottom screen to solve Myst style puzzles set to some incredibly good music. The game is also supposed to have multiple endings based on things you find, events you activate, etc. People who loved games like Broken Sword or Secret of Monkey Island will HAVE to get this game. Other people may be attracted to it by the way the graphics are and from word of mouth. Also, the games story has a bit of creepy added to it because of Ashley's father and his experiments. The big thing here is that this game is just going to be good stuff all around: Good music, creepy storyline and a likable main character rolled into a big ball of point and click Myst-style goodness. Some of the puzzles in this game revolve around the touch pad. You may need to input a sequence into a control panel, move a few items around, repair a broken sign, keep notes, and do other things with the touch screen. The microphone will be used as well. This game is on my list of games to watch.

---
Soul Calibur

- Nintendo is working on this port of the original Namco Arcade game. Now, the thing with this game is that it is a bit of a wild card. The original arcade game barely looked above the capabilities of the PS One & N64 at the time it came out. However, the DS version is already said to be an improvement on the graphics. The Nintendo DS can do some sweet looking 3-D graphics and make games that look better and sharper than the N64 and PS One. Nintendo knows their system rather well and this game is being prepped as a bit of a showcase title. In other words, this game us being made to show that there really isn't too much of a difference between the Nintendo DS and the PSP in terms of graphics.. IF the inititive is applied to make the graphics look good. As for touch capabilities and such? Nintendo will probably let people control the game with the touch screen and select things with the touch screen. This game is currently being prepped to be.. well.. PRETTY. Is it a killer app? We'll see about that. I think it will be.

That is all I want to write about for now. Please come back and check the article next week when I delve into the OPTION PAKS. I'm looking forward to it. So should you.

---
-Editorial by Philip Wesley-
-Sources: Nintendo, Famitsu
-Property of dmgice.com-