LIGHTNING BECOMES A FASHION ICON
IN LOUIS VUITTON'S "SERIES 4" CAMPAIGN
LOS ANGELES (Jan. 5, 2015) -
The heroine of FINAL FANTASY® XIII, Lightning, will make an appearance in the global campaign of Louis Vuitton's spring-summer 2016 collection, "Series 4."
This collaboration between the world famous fashion brand Louis Vuitton and Lightning, the strong and determined heroine of FINAL FANTASY XIII, has been made a reality, with Lightning being the perfect model to express the themes explored by the Louis Vuitton Women's Collection "Series 4."
This collaboration embodies the shared values cherished by both Louis Vuitton and FINAL FANTASY; to preserve our traditions while constantly seeking out new and revolutionary ideas in order to deliver products of world-class quality. Under this philosophy we aim to bring a new value and new experiences to the world.
As the model for the "Series 4," Lightning will appear on various magazine advertisements starting from the January 2016 issue and will also star in promotional videos for the campaign.
Nicolas Ghesquière, Louis Vuttion's Artistic Director of Women's collections, commented, "It's clear that the virtual aesthetic of video games is predominant in this collection. If we push the reflection about heroines, or what might constitute the nature of a woman whose actions can be so courageous that she becomes superior and iconic, it becomes obvious that a virtual entity integrates with the founding principles of the Maison. Lightning is the perfect avatar for a global, heroic woman and for a world where social networks and communications are now seamlessly woven into our life. She is also the symbol of new pictorial processes. How can you create an image that goes beyond the classic principles of photography and design? Lightning heralds a new era of expression."
"The stunning new look of Lightning including her poses and character in action was fully produced by Louis Vuitton," said Tetsuya Nomura, the character designer of Lightning. "Additionally, thanks to the Visual Works team, they were able to produce brilliant work under a tight schedule. This collaboration is not just a promotion of a game, and it is a great honor that the character herself received an offer from a world famous brand. As a result of this collaboration, this has infused new breath into the character, Lightning."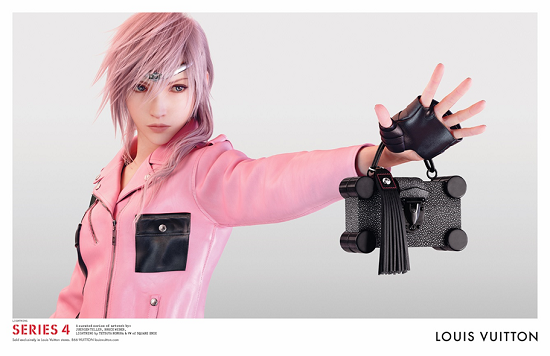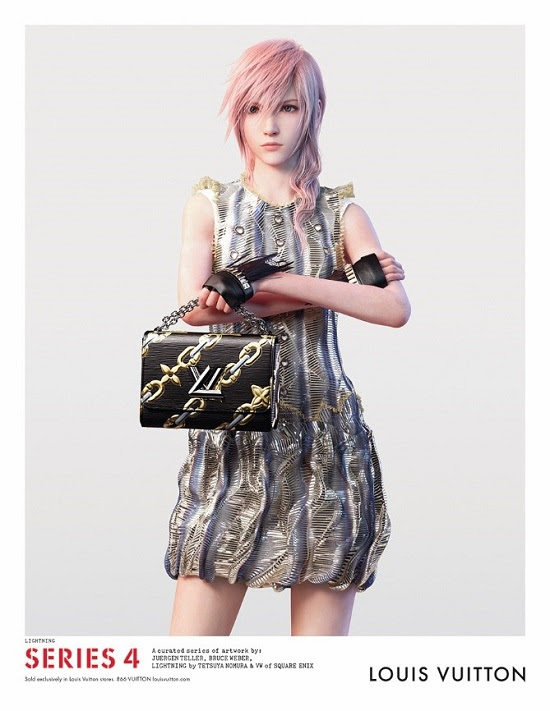 About Lightning
Lightning is the main protagonist and heroine in the FINAL FANTASY XIII series. In FINAL FANTASY XIII, Lightning's younger sister, Serah, becomes an enemy of the government. Lightning then vows to save her, even if it means turning against the world. This is what marked the beginning of a fateful and perilous journey

About Square Enix Co., Inc.
Square Enix Co., Inc. develops, publishes, distributes and licenses SQUARE ENIX®, EIDOS® and TAITO® branded entertainment content around the world. The Square Enix Group operates a global network of leading development studios and boasts a valuable portfolio of intellectual property, including: FINAL FANTASY®, which has sold over 110 million units worldwide, and DRAGON QUEST® which has sold over 66 million units worldwide; TOMB RAIDER®, which has sold over 45 million units worldwide; and the legendary SPACE INVADERS®. Square Enix is a U.S.-based, wholly-owned subsidiary of Square Enix Holdings Co., Ltd.

More information on Square Enix, Inc. can be found at http://www.na.square-enix.com/.
FINAL FANTASY, DRAGON QUEST, EIDOS, SPACE INVADERS, SQUARE ENIX, the SQUARE ENIX logo, TAITO and TOMB RAIDER are registered trademarks or trademarks of the Square Enix Group. All other trademarks are the property of their respective owners.
---
EDITOR'S HYPERBOLE NOTE:
Obviously, I support this idea of having Digital Models showing off real clothes/acessories. Because this is just a few steps closer to having Connected Reality Fashion Shows in the future. Imagine a fashion show being done in a vitual space. The concepts for clothing shown, not in an unconnected reality, but in a connected presentation where presentation of a concept can be shown free of unpredictable human error.- Philip Wesley (Main Editor)
Touch any of the buttons to get to other places in the Library and on DMG Ice.
Touch here to go to the TOP of this press release.